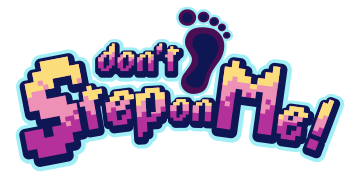 Don't Step On Me!
A downloadable game for Windows
----=== DESCRIPTION ===----
Don't Step On Me! is an out-of-mind couch party multiplayer game for 2-4 players, where you have to win the mascot competition with other players in a variety of game modes. Designed for Destroy nurturing bond between friends and family, Don't Step provide a selection of cute looking character ( skin only, no difference in gameplay aspect..).
The Game has a few game modes to enjoy, this is our currently available mode that will be updated in the future.


----=== GAME MODES ===----
1. Steal The Name!
This mode is about collecting words to complete the character names. The fastest player to complete its name is the winner. But be careful, because other players can steal the words that you have collected by stomping you, which will slow you down to complete your name. Try to be the fastest, because surely you don't want to end with an embarrassing incomplete name right.
Objectives :
- To become a winner, players must collect 5 letters to complete their name
- Letters obtained from Word Box (brown box)
- Word Box must be stepped on first to get letters
- Once stepped on, Word Box will disappear and will reappear elsewhere
- Players can step on other players to steal letters from these players
- Players who have collected 5 letters must keep the letters from being stolen for 5 seconds
- After the player survives for 5 seconds, the player is declared as the winner
2. Coming Soon


----=== CONTROLS ===----
Player 1
Move Right : D
Move Left : A
Jump : W
Stomp : S
Start/Select : Space
Player 2
Move Right : Right Arrow
Move Left : Left Arrow
Jump : Up Arrow
Stomp : Down Arrow
Start/Select : Enter
Player 3
Move Right : Numpad 6
Move Left : Numpad 4
Jump : Numpad 8
Stomp : Numpad 5
Start/Select : Numpad Enter

Player 4
Move Right : J
Move Left : G
Jump : Y
Stomp : H
Start/Select : O


----=== TIPS ===----
Try experimenting with stomping, you will find that many things can be done by stomping


----=== USER FEEDBACK ===----
We would love to hear your feedback, please kindly tell us your thoughts on this game here:
https://forms.gle/94GnpjarYhbYBihE6


----=== SOCIAL MEDIA ===----
Reach our social media :
Twitter
https://twitter.com/step_don
Facebook
https://www.facebook.com/dsom.grinsmile
Reach us and other players to play together here:
Discord
https://discord.gg/BRZKg5
Download
Click download now to get access to the following files:
Dont Step on Me v.0.1.7.rar
30 MB